A short write up to share our trip to Bandung last weekend.

Liga RC Pylon Race Seri I - 22-24Feb 2013, Bandung, Indonesia
The Indonesian Aero sport Federation, Federasi Aero Sport Indonesia (FASI) held the Liga RC Pylon Race Seri I in Bandung last weekend. It was held at a beautiful airfield in Kopo, Lanud Sulaeman surrounded by mountains. They invited nearby countries to join. In a year they will typically organised 3 of these kind of races in different provinces which serves as a warm up to the big national competition.
Airfield
In this event, besides the nitro pylon race (Q500 class) there was also 3D Fixed Wing, Touch and GO, Electric Pylon Race . This is the first time Electric Pylon Race was introduced. We decided to go and take part for exposure, have some fun and make new friends.
The main category was the nitro pylon race, there were many pilots who came from all over Indonesia. Competition was keen and fierce, the noise from the engine and the bigger size of the planes made it exciting and spectacular for the spectators. For this category, pilots have to fly 10 laps around 2 poles 180m apart.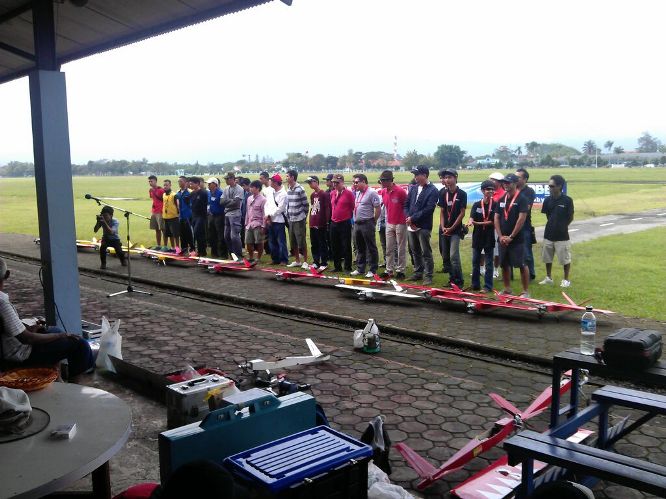 Race vid
We took part in the electric Rc pylon race, since this was the first time they held electric race, they made it open class with no restrictions, and each race only 5 laps. We went with the Sunracer and E-wasp and were up against 3 Dago reds, 2 Funjets, and one Funjet clone. 2 pilots per heat and we completed 3 rounds.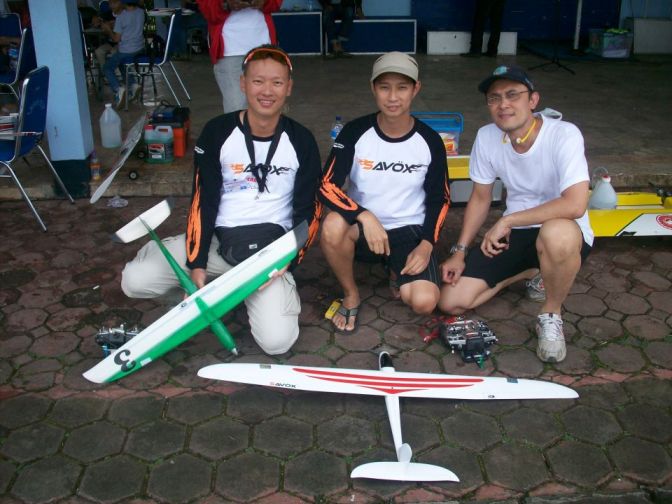 Flying in a competition is a totally different ball game from funflying at CD field. Hands shaking, adrenaline was pumping, it was hard to keep the planes in control. Many times , we overshot the pylons , especially the left pylon as we were not used to the pylon distance and the turns coming in towards us. We learnt after the first round, we had to go around the pylons and not just cross it, else it will be a cut. One cut added 10% of time, 2 Cuts or more is max 300sec. Vincent's first round had 3 cuts due to this.
The 2nd round we did much better, with no cuts , still we overshot the pylons. Unfortunately, when I was coming in for a landing, the sunracer hit the left pylon pole, which left a huge dent in the wings and put it out of the last round. Ouch.
Sunracer hit pole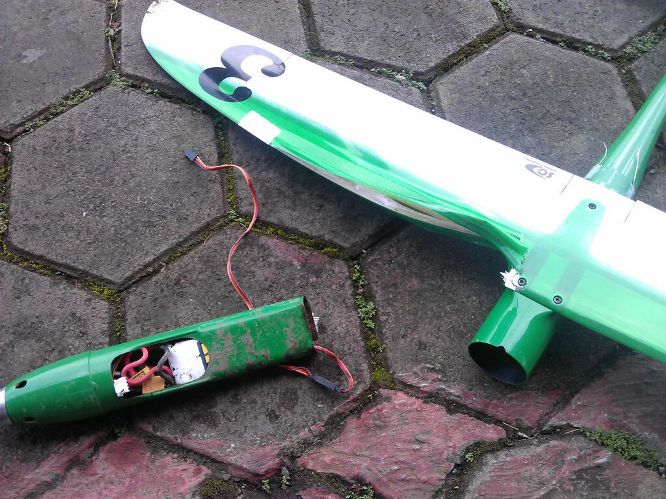 In round 3, i used the back up E-wasp. Vincent put in a 4s lipo for his (previously all on 3s) as it was the last batt we had. On take off his E-wasp shot up fast into the air, it was looking good after the first turn when suddenly he felt no power. The ESC had cut. We realised we forgot to program the ESC for higher cut off, since now on 4s the amp draw would had been more.
Prepare for launch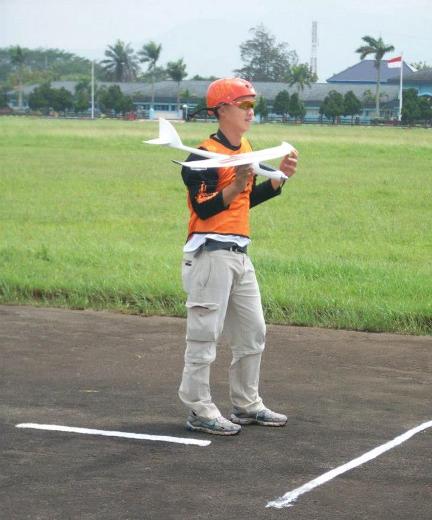 The electric pilots like their nitro counterparts, the best from their own provinces, were very skilled and could make tight turns around the plyons. Even though we had faster planes, we lost out in the turns, we learnt that speed is nothing without control, and to fly around a preset course is not easy, it requires lots of disipline and practice.
Results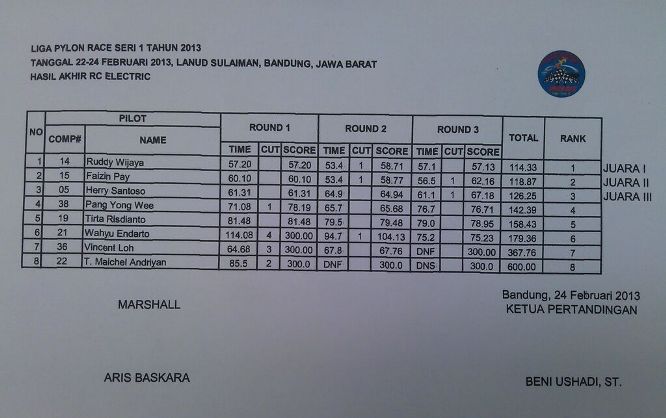 The other 2 categories also attracted many participants. For the Touch and GO, pilots have 3mins to do as many touch and go as possible with a 5m rolling on ground counted as 1 touch. The electric planes had advantage here as they could make short turn-arounds. This event was won by a young boy with great skills. For the 3D Fixed Wing, pilots fly their planes to music and were judge by a panel.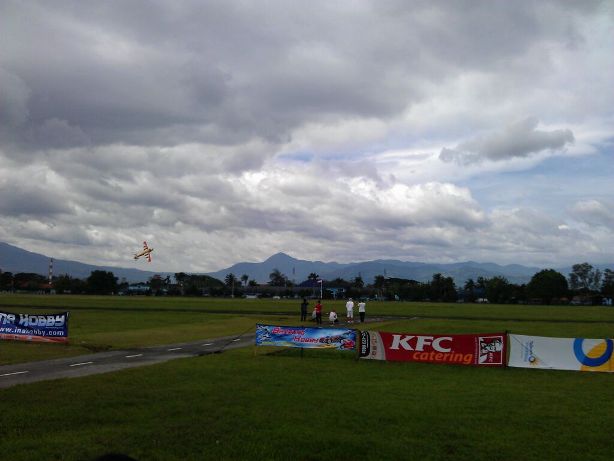 The event concluded with prize presentation on the last day. It was very well ran, the Indonesians were very passionate about aeromodelling its amazing they came from every part of Indonesia, some driving some 12 hours to this event. They had great support from their goverment, the province helpers. We were told in previous events, their Airforce even charted C130s to fetch some of them from the rural areas to the events.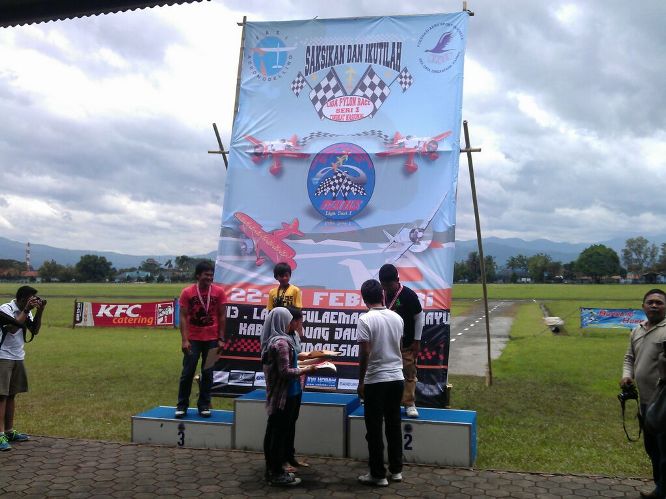 The Q500 nitro race is very popular and they asked us to take part in that category next time. Its also popular in Thailand and they have planned to make it into a big event next year at the Asian Beach games in Thailand 2014, and hoping for it to be included in the SEA games. Anyone keen can start practicing now.
We like to thank the host for their great hospitality, good fun, great experience.
More pics at
http://www.facebook.com/media/set/?s...2669914&type=1
http://www.facebook.com/media/set/?s...3766019&type=1